Luxury Bus Hire in Pushkar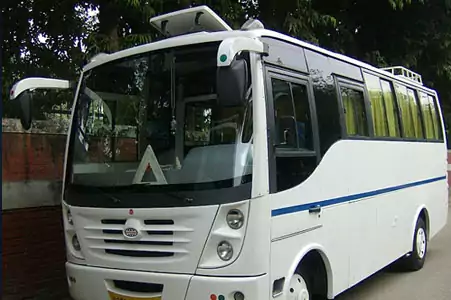 For all occasions, events, and parties, Luxury Bus Hire in Pushkar is the best conveyance option to have for AC and Non-AC buses. One can book our bus rental in Pushkar when you are travelling with a large no. of passengers. Be it for covering the Ajmer Pushkar trip or Rajasthan Tour Packages with Pushkar, our Luxury Bus for Outstation Tours assures you a safe and comfortable tour of the spirituality and heritage all together in one go. We offer clean buses with luxuries and comfort that you had never expected. The buses feature all essential travel amenities like a first-aid kit, push-back seats, and more.

If you are planning to go on a vacation trip with family or groups, you can choose our bus rental in Pushkar with all luxuries at the best competitive rates and a memorable journey. The services we offer are not just limited to Pushkar, but one can choose Luxury Bus On Hire in Pushkar, Rajasthan tour, or any outstation tour.

If you are deciding to go on a vacation with your family or groups, then choose our luxury Tempo Traveller Rental in Pushkar. The services we offer are not only limited to Jaipur but also for outstation purposes. We offer bus rental services for all occasions like weddings or some kind of tour. Jaipur bus rental and coach hire services are provided in Jaipur by us. We are known for providing private luxury bus services. Bus hire in Jaipur get the best deals with us and book a bus with a professional chauffeur in the city. Nowadays bus booking services are easy, now you can book luxury bus services online. All our luxurious buses are fully sanitized and you can rent a bus in Jaipur for local sightseeing and outstations.

Bus Rental in Pushkar, Rajasthan
We offer bus rental in Rajasthan of varied seating capacities. We have a wide range of buses from 35, 41, 45, 52, 56 seater Bus Rental in Pushkar for a huge group or less. There is a separate cabin with 2 seats for the driver and helper. Two types of Volvos are available for your trip to India. During weddings or other grand functions, a large number of groups come to visit the functions, for their transportation and convenience to travel from one place to another.

Hire a Bus for Business Conferences/Corporate Meetings
When a large number of people wants to attend conferences, the best suitable choice to travel intercity would be the Luxury bus rental services we offer. The services are provided to ensure your safety and comfort while travelling along with large groups from Pushkar. Many times, when corporate meetings are held, it often becomes difficult to select the most suitable mode of transportation. There comes a bus rental service in rescue. So, you can go comfortably from Pushkar to any place in Rajasthan. Enjoy a ride in a fully sanitized luxury bus for business meetings.

Why should you hire our Luxury Bus Rentals?

24*7 customer support service
Luxury bus at affordable rates
Exciting deals or discounts on bus rental bookings
Luxury bus for all occasions
Doorstep pick-up and drop services

For bookings and other queries for Luxury Bus for Rajasthan Tour, contact us at the given details or fill out the form below.

Mobile 7727035735 email id  travelpeopleindia@gmail.com    wats app +91 7727035735
Luxury Bus Hire Rates In Ajmer
| | | | | | | |
| --- | --- | --- | --- | --- | --- | --- |
| Bus Type | 8 Hours | 12 Hours | Outstation | Night charge | Seating capacity | Minimum running |
| Mini Bus 15 Seater Ac | 5500 | 7500 | 25 | 300 | 15 | 300kms |
| Mini Bus 21 Seater Ac | 6000 | 8000 | 28 | 300 | 21 | 300kms |
| Mini Bus 25 Seater Ac | 6500 | 8500 | 30 | 500 | 28 | 300kms |
| Bus 35 Seater Ac | 7500 | 10500 | 38 | 500 | 35 | 300kms |
| Bus 41 Seater Ac | 8000 | 11500 | 42 | 500 | 41 | 300kms |
| Bus 45 Seater Ac | 8500 | 1200 | 42 | 500 | 45 | 300kms |
| Bus 52 Seater Non Ac | 7500 | 11000 | 40 | 500 | 52 | 300kms |
| Bus 56 Seater Non Ac | 8000 | 11500 | 42 | 500 | 56 | 300kms |