Luxury Tempo Traveller in Pushkar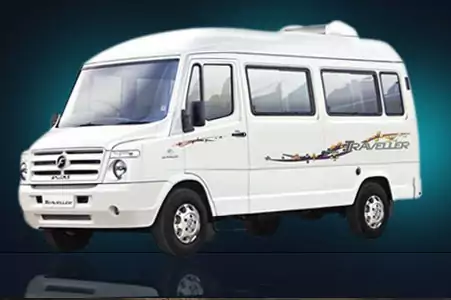 Tempo Traveller Rental in Pushkar is the most suitable option for exploring Pushkar with a group of family or friends. Travellers can rent up to 15-seater or Maharaja Luxury Tempo Traveller in Pushkar across Rajasthan which let's group travels or family trips more comfortable. The sofa seats, pushback seats, and personalized air condition space make it easier to travel around in Pushkar or anywhere outside the city. Our Tempo Traveller rental services are available at the best affordable rates, so you can make the best out of your journey. We take the best care of your comfort and safety through our clean, spacious, and comfortable range of tempo traveller rentals.

Pushkar is a famous tourist destination in Rajasthan which boasts of the spirituality of the royal state. Pilgrims from all over Rajasthan worship the historic temples of Pushkar to offer prayers and find peace in the city. Travel freaks from all across the world flock here to get immersed in the religious vibes of the city. Amongst the oldest cities in India, Pushkar is on the northwest side of Ajmer in Rajasthan. The tranquil city of Pushkar is the favorite tourist place in Rajasthan for many travel freaks and devotees in Rajasthan. Set at a height of 510 meters, Pushkar is surrounded beautifully by hillocks on three sides of which Nag Pahar creates a border between Ajmer and Pushkar.

What are some best things to do in Pushkar with a group?
Through our 8,9,12,16 Seater Tempo Traveller Services, group travellers can enjoy spending a good time together while exploring Pushkar. Discover the beautiful tourist destination in Rajasthan with your family or friends who can all visit the famous tourist places in Pushkar.

If you are visiting Pushkar for the first time with family, friends, or colleagues, then book our well-maintained vehicle for Hire Luxury Tempo Traveller for Outstation. This comfortable conveyance will take you around the city for a hassle-free trip. If you are wondering what are some best things to enjoy in Pushkar, then check out the following things -

Thrilling Jeep Safari in village or desert
Take on a bumpy and exciting camel ride
Be ready for a Desert Camping in Pushkar
Enjoy a Hot air balloon ride
Trek to Ratnagiri Hill or hike up to Pap Mochani Temple
Cable ride to Savitri Temple

Facilities of our Tempo Traveller Rental
Comfortable sofa seat
Pushback seats
Clean glasses and curtains
Air condition interior
Charging facility
Extra Luggage Space
Ample Leg Space
Icebox and other luxuries

Hire Tempo Traveller in Pushkar with us and enjoy a safe and hassle-free drive across the city. Be it for a marriage party or family weekend trip or religious tour, our tempo traveller will accommodate any group size that you may have with regards to planning your trip with us. Our fleet of air-conditioned Luxury Tempo Traveller in Pushkar will let you explore the famous religious city without compromising on comfort and affordability. Sufficient space and ample legroom are the main priorities for group travels including kids and grandparents. With our spacious tempo traveller, these two are well taken care of and also prove to be a cheaper option for group travellers.

For any further queries, get in touch with us and stay relaxed when we are here for 24*7 support. With unlimited travel advantages, we offer a transparent billing system in comparison to booking a taxi or taking a suitable Ajmer Pushkar Tour by Tempo Traveller at the best economical rates. The well-maintained vehicle will be driven by experienced chauffeurs, which makes us the right choice for group travellers in Pushkar. Along with comfort as the topmost priority, enjoy a safe and stress-free trip to Pushkar.

Mobile 7727035735 email id  travelpeopleindia@gmail.com    wats app +91 7727035735
Tempo Traveller Rates In Pushkar
| | | | | | | |
| --- | --- | --- | --- | --- | --- | --- |
| Taxi Type | 8 hrs | 12 hrs | Outstation | Night charge | Seating capacity | Minimum Running |
| Tempo 9 Seater | 4500 | 6000 | 22.0AC | 300 | 09 | 300kms |
| Tempo 12 Seater | 4500 | 6000 | 23.0AC | 300 | 12 | 300kms |
| Tempo 16 Seater | 5000 | 6500 | 24.0AC | 300 | 16 | 300kms |
| Tempo 26 Seater | 8500 | 12500 | 32.0AC | 500 | 26 | 300kms |
| Mini 15 Coach | 5500 | 7000 | 25.0AC | 500 | 15 | 300kms |
| Mini 19 Coach | 6000 | 7500 | 28.0AC | 500 | 21 | 300kms |
| Luxary 35 Seat | 7500 | 9500 | 40.0AC | 300 | 35 | 300kms |
| Luxury 41 Seater | 8500 | 12500 | 45.0AC | 500 | 41 | 300kms |
| Luxury 45 Seater | 9500 | 14500 | 46.0AC | 500 | 45 | 300kms |
| Non Ac 52 Seater | 8500 | 12500 | 40.0 | 500 | 52 | 300kms |
| Non Ac 56 Seater | 9500 | 14500 | 42.0 | 500 | 56 | 300kms |